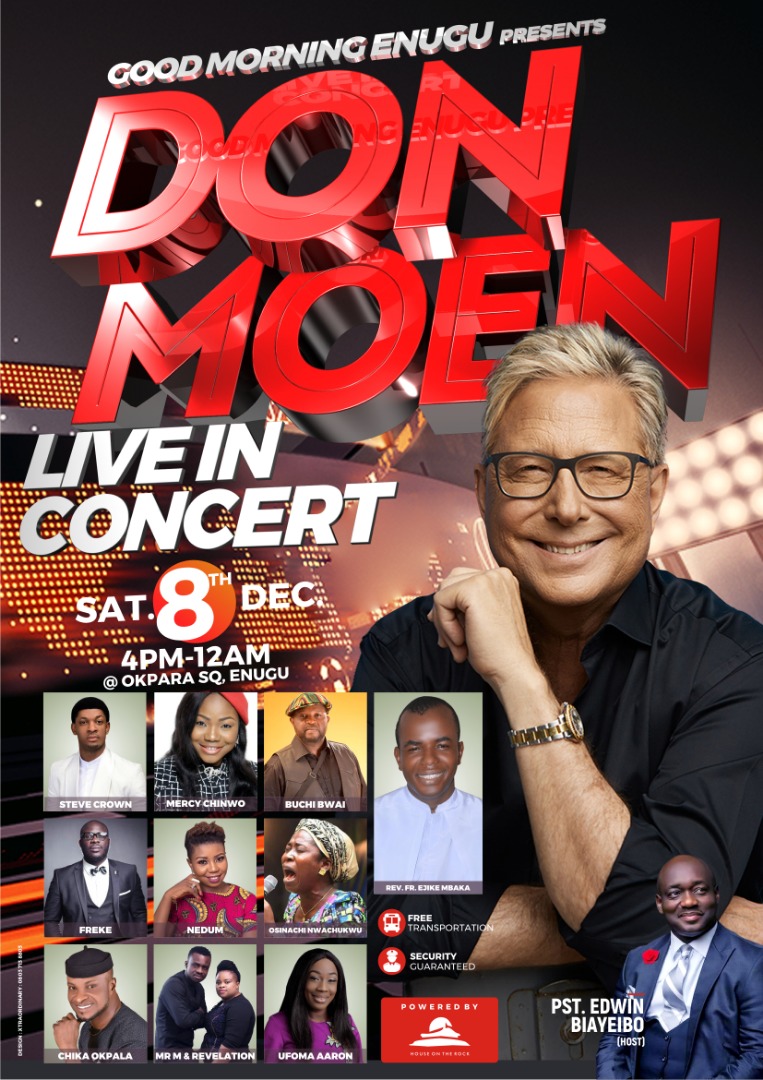 House on the Rock Enugu is again playing host to the program tagged "GOOD MORNING ENUGU". This event is a gospel-centric interdenominational concert in appreciation to God for peace, security and for the continuous prosperity of Enugu State.
As the name suggests, the program is really intended to herald a new dawn for the state, because every time we say "Good Morning" it really implies that no matter what has happened in the darkness of night, there is a new opportunity, a new horizon, a second chance to take another swing at life. In fact, the scriptures tell us in Psalms 19:2 that "Day after day they pour forth speech; night after night they reveal knowledge". This statement indicates that every "Good morning" presents a precious opportunity to acquire knowledge and surmount the problems that seem to have had no answers the previous day, whether as individuals, families, organizations, communities or even as a nation.
The thrust of the 2018 GOOD MORNING ENUGU is "THANKSGIVING". However, one may ask "What is there to give thanks about?", and indeed it is a valid question but we must also understand that Thanksgiving is not just for things that have gone rightly, but Thanksgiving can also be a forward appreciation for what we expect to see and we dare say that the later form of thanksgiving carries more potency.  
This year's Concert, as with other years, will also provide a platform to pray for the government of Enugu State, the organizations situated in the state and the good people of Enugu. Over the years the Good Morning Enugu concerts have attracted thousands of people converging to experience the wonderful atmosphere it creates. This year we expect no fewer than Five Hundred Thousand people to converge at the Okpara Square for this annual fiesta on the 8th of December, 2018.
To lead us in the concert are the following: globally renowned gospel artist, Don Moen, Nigerian hit sensations, Mercy Chinwo, Buchi, Steve Crown, Ufuoma Aaron, and several others. Prayers will also be led by the bishops of different religious spheres in our city, including Rev.Fr. Ejike Mbaka, Prophetess Deborah Akachukwu, Bishop Obi Onubogu and a host of others.
Finally, we hope to see you there as we raise an altar of thanksgiving at the 2018 GOODMORNING ENUGU CONCERT.
FOR ENQUIRES ON SPONSORSHIP, PARTNERSHIP or SUPPORT, call 08161138949 and the secretariat on 08032261510.
FOR: Edwin Biayeibo
Snr. Pastor, House on the Rock, Enugu.
OKECHUCKWU OKEKE
HEAD, GME, PLANNING COMMITTEE